Welcome to the North Royalton Chamber of Commerce Online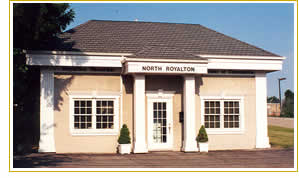 The North Royalton Chamber of Commerce offers a wealth of information for its area business members, residents and newcomers to our area. Our members enjoy networking, socializing and the benefits from our support and assistance.
The Chamber is the hub of our community, and its news publication, the Royalton Recorder, is the Heart of our Hometown!
WELCOME NEW CHAMBER MEMBERS!
Erin Schillo, Agostino's Catering & Event Center
Jim Nowak, Family First Caregivers
Jolyn T. Brown-Redic, The John Maxwell Team
Charles Basham, The MetroHealth System
Anthony M. Fondale, T. F. Construction Inc.
Joe Nadzam, Access Information Management
Ron Matthews, Kona Ice of Strongsville/N. Royalton/Berea
Tom Joyce, Home Instead Senior Care
Todd Allen, Generations Antiques and More
Jacqueline Canter, BlueLine Classics, LLC
Bosko Maksimovic, Elite Business Solutions, Inc.
Natalie Simmons and Anthony Piocquidio, Sherwin Williams
Cici Kurleto, Caribbean Cowboy Saloon
Jeanette A. Brinkley, Key Investment Services
Michelle Aini, One Mind One Body Fitness
Eileen M. Whitacre, The Painter's Studio
Rimma Beres, Lux Salon
Gary Williams, Instrument Service & Equipment, Inc.
Georgia Viehbeck, Welcome Wagon
Christine Mark, GrassMaster
Amy Kuntz and Sheri Stafford, Partnership for a Healthy North Royalton
Terri Komomijez, Howard Hanna
Tim Baird, Multi-Flow Dispensers of Ohio, Inc.
Cheryl McCallum, Danbury Senior Living
Amy E. Wynn-Schieda and John Schieda, Kader Printing LLC.
Julie Kachurchak, North Royalton Self Storage
Maureen Miner, Howard Hanna
Cathy Ricker, Griswold Home Care

MEMBER NEWS
Check Membership Directory/Member News for important events being offered by our members.

NORTH ROYALTON 2017 BUSINESS DIRECTORY
Here is the 2017 Business Card Directory. Keep it on hand, and use it often when you need a service and want to use a local professionals. Please support our local businesses
2017 Business Directory
SPRING IS HERE - TIME FOR GOLF!
The Chamber of Commerce Annual Golf Outing will be held Thursday, May 18, at Coppertop at Cherokee Hills Golf Course. Call your friends and put together a foursome or two and join us for a fun day of golf, good food and good company.
Golf Registration Form
Visit events listing for more info
Become a Featured Member through our Sponsors Program
See your business or organization prominently displayed within our website. Become a featured member through our new Sponsors Program. For complete details regarding ad specifications, sizes and pricing; contact info@nroyaltonchamber.com today!