Welcome to the North Royalton Chamber of Commerce Online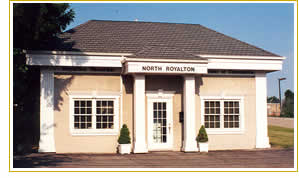 The North Royalton Chamber of Commerce offers a wealth of information for its area business members, residents and newcomers to our area. Our members enjoy networking, socializing and the benefits from our support and assistance.
The Chamber is the hub of our community, and its news publication, the Royalton Recorder, is the Heart of our Hometown!
WELCOME NEW CHAMBER MEMBERS!
Eileen M. Whitacre, The Painter's Studio
Rimma Beres, Lux Salon
Gary Williams, Instrument Service & Equipment, Inc.
Georgia Viehbeck, Welcome Wagon
Christine Mark, GrassMaster
Amy Kuntz and Sheri Stafford, Partnership for a Healthy North Royalton
Terri Komomijez, Howard Hanna
Tim Baird, Multi-Flow Dispensers of Ohio, Inc.
Cheryl McCallum, Danbury Senior Living
Amy E. Wynn-Schieda and John Schieda, Kader Printing LLC.
Julie Kachurchak, North Royalton Self Storage
Maureen Miner, Howard Hanna
Cathy Ricker, Griswold Home Care
Carol A. Weiss, Red Hat Society
Chamber Application
NORTH ROYALTON 2017 BUSINESS DIRECTORY
Here is the 2017 Business Card Directory. Keep it on hand, and use it often when you need a service and want to use a local professionals. Please support our local businesses
2017 Business Directory
PROMOTE YOUR BUSINESS IN THE COMMUNITY FESTIVAL
You can support the annual North Royalton Community Festival and Promote Your Business at the same time. Become a Festival Sponsor and show your support of our community.
More Info
EVERYBODY LOVES A PARADE
The North Royalton Community Festival Parade will be held Sunday, August 20, 2017. Bring your groups, floats, vehicles and bands and join us for a fun afternoon.
Application
YOU CAN BECOME NORTH ROYALTON "ROYALTY"
One of the most fun events of summer in North Royalton is the Community Festival Pageant. Open to boys and girls, teens, young adults, and seniors. It's a great experience and one you will remember always.
Application
MEMBER NEWS
Check Membership Directory/Member News for important events being offered by our members

YOU CAN BE A PART OF THE COMMUNITY FESTIVAL
Do you have a retail business and would like to have a booth at the Community Festival? Or, would you like to share information about your business or organization with no selling? If so, join us at the North Royalton 133rd Community Festival.
Application
Visit events listing for more info
Become a Featured Member through our Sponsors Program
See your business or organization prominently displayed within our website. Become a featured member through our new Sponsors Program. For complete details regarding ad specifications, sizes and pricing; contact info@nroyaltonchamber.com today!