Welcome to the North Royalton Chamber of Commerce Online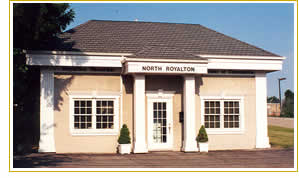 The North Royalton Chamber of Commerce offers a wealth of information for its area business members, residents and newcomers to our area. Our members enjoy networking, socializing and the benefits from our support and assistance.
The Chamber is the hub of our community, and its news publication, the Royalton Recorder, is the Heart of our Hometown!
WELCOME NEW CHAMBER MEMBERS!
Diana Rezabeck, Royal Tan
Steve Sinisgalli, Cuyahoga Community College
Michael J. Kichurchak, AC Mold Inc., dba American Cube Mold
Mario Dabramo, Mario's North Royalton
Srinivas Adibhatla, Kamya Inc.
Sailaja Challa, Kamya Inc.
Tami Pace, Royalton Woods
Pooja Puri, Combined Worksite Solutions
Larry Apple, Omni Senior Living
Justin Dunn, Dependable Tents Events Rental Services
Dino Zullo, Amici Restaurant & Dino's Bar
Jay Rayl, TLC Insurance Group
Andrew Szczesniak, Group Management Services
Dino Zullo, Amici Restaurant & Dino's Bar
Jay Rayl, TLC Insurance Group
Robert T. McCue Jr., RTM Construction Co.
Jeannette Sacha, Automotive Excellence Inc.
Lisa Bargmann, Holistic Halo Salt Spa
Chamber Application
NORTH ROYALTON 2018 BUSINESS DIRECTORY
Need a service and want to shop locally? Here is the 2018 Business Card Directory. Keep it on hand, and use it often when you need a service and want to use a local professionals. Please support our local businesses.
2018 Business Directory
MEMBER NEWS
Promote Your Business with an E-Blast! Check Membership Directory/Member News for important accouncements.

NORTH ROYALTON 2018 COMMUNITY FESTIVAL
This is a very special year for North Royalton! We are celebrating our 200th Birthday! There are many events to mark this milestone year. Our community festival will be held August 10-12, 2018 at the City Green on the corner of Royalton and Ridge Roads. You can be a part of this special celebration by having a vendor or exhbitor booth at the festival.
More Info and Application
BICENTENNIAL PAGEANT - A Once-in-a-Lifetime Chance
Ladies and Gents: In this special Bicentennial year, you can be a part of this once-in-a-lifetime opportunity to be in the North Royalton History Books! Enter the North Royalton Bicentennial Pageant for a chance to make history!
Bicentennial Pageant Application
NORTH ROYALTON BICENTENNIAL GALA BALL
Since the year 1818, North Royalton has grown from a tiny village, to a township to the modern city it is today. We are celebrating our 200th birthday and invite you to celebrate with us. The Bicentennial Ball is sponsored by the Chamber of Commerce, which is now celebrating 100 years of service to the community. It's time to celebrate our rich history and move forward to a promising and exciting future together!
Gala Ball Info and Reservation Form
YOU CAN BE A COMMUNITY FESTIVAL SUPPORT SPONSOR
Support the North Royalton Bicentennial Community Festival while at the same time promote your business!
More Info
BICENTENNIAL COMMUNITY FESTIVAL PARADE
Get your groups together and mark in the North Royalton Bicentennial Community Festival Parade. It will be held Sunday, August 12, at 3 p.m.
Parade Application
Visit events listing for more info
Become a Featured Member through our Sponsors Program
See your business or organization prominently displayed within our website. Become a featured member through our new Sponsors Program. For complete details regarding ad specifications, sizes and pricing; contact info@nroyaltonchamber.com today!