Welcome to the North Royalton Chamber of Commerce Online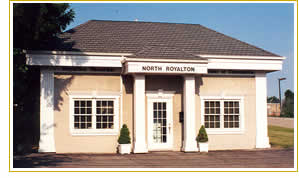 The North Royalton Chamber of Commerce offers a wealth of information for its area business members, residents and newcomers to our area. Our members enjoy networking, socializing and the benefits from our support and assistance.
The Chamber is the hub of our community, and its news publication, the Royalton Recorder, is the Heart of our Hometown!
WELCOME NEW CHAMBER MEMBERS!
Larry Apple, Omni Senior Living
Justin Dunn, Dependable Tents Events Rental Services
Dino Zullo, Amici Restaurant & Dino's Bar
Jay Rayl, TLC Insurance Group
Andrew Szczesniak, Group Management Services
Dino Zullo, Amici Restaurant & Dino's Bar
Jay Rayl, TLC Insurance Group
Robert T. McCue Jr., RTM Construction Co.
Jeannette Sacha, Automotive Excellence Inc.
Lisa Bargmann, Holistic Halo Salt Spa
Glen Workman, Workman Firearms LLC
Bohdan Skitsko, BOFIT LLC
Sean Grandage, Arden Courts of Parma
Joelle Cole, Cole Allstate Agency
Mukesh Agarwal, Loving Cup Kids Academy
Rob Myers, Paychex
Edward Dombrowski, All Service Travel
Brian Klecan, 401(K)Prosperity, a Division of Planned Financial Services.
Chamber Application
NORTH ROYALTON 2018 BUSINESS DIRECTORY
Need a service and want to shop locally? Here is the 2018 Business Card Directory. Keep it on hand, and use it often when you need a service and want to use a local professionals. Please support our local businesses.
2018 Business Directory
MEMBER NEWS
Promote Your Business with an E-Blast! Check Membership Directory/Member News for important accouncements.

Visit events listing for more info
Become a Featured Member through our Sponsors Program
See your business or organization prominently displayed within our website. Become a featured member through our new Sponsors Program. For complete details regarding ad specifications, sizes and pricing; contact info@nroyaltonchamber.com today!