North Royalton Community Vital Statistics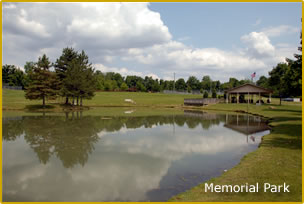 - Population -
The population of North Royalton is estimated at approximately 32,500 and continues to grow.
Area -
North Royalton has land area covering nearly 22 square miles. Its elevation is 1270 feet above sea level.
Banking -
Banks in the city include: First Federal Lakewood:(440)582-2010; Fifth Third Bank: (440)237-5636 or (440)886-4136; KeyBank: (440)237-7946; PNC Bank: (440)237-8880; Ohio Savings Bank: (440)582-9500; First National: (440)582-7417; and US Bank: (440)845-3600; to name a few.
Churches -
There are churches in North Royalton of various denominations.
St. Albert the Great-440.237.6760;
Royal Redeemer Lutheran Church-440.237.7958;
Abiding Savior Lutheran Church-440.237.6454;
Christ the Savior American Orthodox Church - 440-237-9196;
St. Paul Greek Orthodox Church-440.237.8998;
St. Matthew the Evangelist Orthodox Church-440.582.5673;
North Royalton Baptist Church-440.237.6522;
North Royalton United Methodist Church-440.237.7663;
North Royalton Christian Church-440.237.4531;
North Royalton Fellowship - 216.246.8538
Holy Trinity Ukrainian Autocephalous Orthodox Church-440.237.0101;
State Road Church of the Nazarene-440.237.2344;
Abundant Life Community Church-440.877.1202;
Southwest Unitarian Universalist Church - 440.816.1686.
Hospitals -
University Hospitals Parma Medical Center serves the city, along with other health care facilities, such as Southwest General Health Center, Marymount Hospital and the Cleveland Clinic.
Retirement & Nursing Facilities -
There are several nursing, assisted living and/or retirement facilities: Arden Courts, Athenian Assisted Living, Deaconess Center Apartments, HCR Manor Care, Royalton Woods, Mount Royal Villa Care Center, and Diplomat Health Care, Northeast Care Center.
Housing -
North Royalton offers a unique combination of century homes with new upscale homes reflecting a variety of architectural styles, in addition to apartment complexes and cluster housing, nestled in a picturesque setting of rolling hills.
Industry & Business -
North Royalton Industrial Park is located within five miles of the Ohio Turnpike Exit 10, I-71 and I-77. Progress Parkway is located on Rt. 82, approximately three miles east of I-71.
Library -
The North Royalton Branch of the Cuyahoga County Public Library is located at 5701 Wallings Road. Phone Number is (440) 237-3800. Manager is Jeanne Cilenti.
Newspapers -
North Royalton is served by the Royalton Recorder, published twice per month by the Chamber of Commerce. It is delivered by mail to every residence and business in North Royalton plus a portion of Broadview Heights, and by subscription in surrounding areas. The Plain Dealer is the Cleveland newspaper delivered several times a week by subscription.
Parks & Recreation -
The Cleveland Metroparks System maintains Mill Stream Run Reservation, which makes up part of the famous "Emerald Necklace." Other parks in the city include: Memorial Park, York Road Complex and Heasley Field.
Postal Service -
The North Royalton Post Office is located at 13901 State Road.
Shopping Facilities -
In addition to the numerous neighborhood shopping plazas located around the city, two malls are located within minutes of North Royalton: The Shops at Parma to the north and South Park Center to the west.
Utilities -
Electricity is provided by the The Illuminating Co. Natural gas is provided by Columbia Gas of Ohio. Water service is provided by the City of Cleveland. Sanitary sewers are maintained by the City of North Royalton. Cable TV is supplied by AT&T, Time Warner and WOW.